Real estate in Israel (english text)

Commercial real estate business for sale in Israel
A-class office building in Israeli seaside town Ashdod, well-situated and with regular leasing revenue, is being sold by the owner. Space size -
500 s.m.
, price -
5,9 million shekel
(approximately 1,47 million US dollars). Mortage loan of an Israeli or an European bank is acceptable. The deal can be structured in accordance with the buyer's preferences: it is possible to buy the building itself, as well as the company - registered owner of the building and tax resident of Israel.
We suggest that you regard this deal as a low-risk investment in
the real estate property of Israel
: the owner has just finished the reparation works in the office and has signed long-term leasing contracts, therefore, there is constant residual income from the property. If there is a need for it, it is possible to use the office for your Company's purposes in Israel after the expiry of the leasing contracts (in two-year period).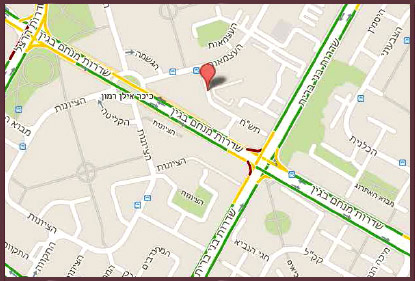 | | |
| --- | --- |
| Сost of the real estate | 5.900.000 NIS |
| Lessee №1 rental revenue | 8.610 NIS per month |
| Lessee №2 rental revenue | 6.660 NIS per month |
| Lessee №3 rental revenue | 6.800 NIS per month |
| Lessee №4 rental revenue | 20.520 NIS per month |
| Total rental revenue | NIS per month |
| Utility expenses compensation | = 100% |
| Property insurance expenses, land lease expenses | NIS per month |
| Gross margin | 29.240 NIS per month or |
| | 350.880 NIS per annum |
| Return on investment | |
| -  Operating margin (leasing income) | = 5,9% per annum |
| -  Capital margin (market growth income) | = 5,5% per annum |
| - Total return | = 11,4% per annum |
Owner's contact details:
+7 (495) 780-36-56
office@adelanta.ru
The location of the office, which will surely become only the first step of your successful business in Israel, is, without vanity, very favourable for any kind of business activities.
Please, judge for yourself: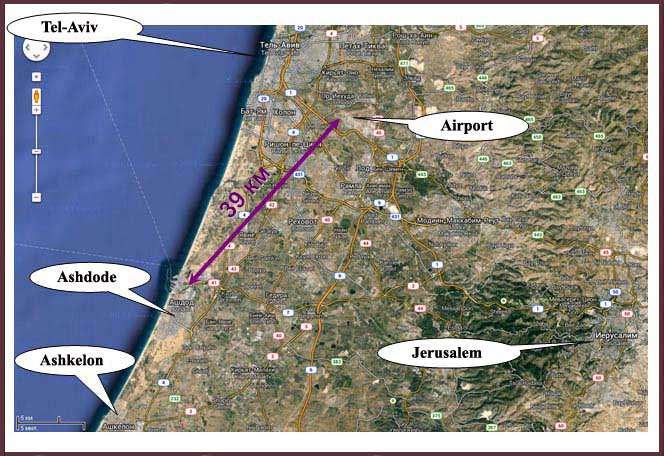 39 km - to Ben Gurion, international airport of Tel-Aviv


6 km - to the railway station of Ashdod


2 km - to the municipal bus station, with buses leaning to every destination in Israel


yacht parking in close proximity, as well as the biggest marine port of Israel (it operates 60% of country's floating cargo)


important for business: there is practically no traffic jams in Ashdod (population - 250 thousand people)


The office is located in the central part of the town (which is also its business centre), with a guaranteed vicinity of banks and business centeres
The property is perfect for first time investment in Israel's real estate market
Similar to Europe, there are few private parking spaces in Israel. There is no problem with parking near our office bulding. Building's characteristics:
High quality decoration of rooms and corridors


Office (450 s.m.) is situated at the first floor, reseption desk - at the ground floor


It is an open-plan building, with a large number of open spaces


The extensive area of the building is glazed


The entrance room was redesigned in 2014, now it has a more presentable and high-profile look


There is the administrator of the building, with a list of clearly written functions and responsibilities in the contract
And a few more important details...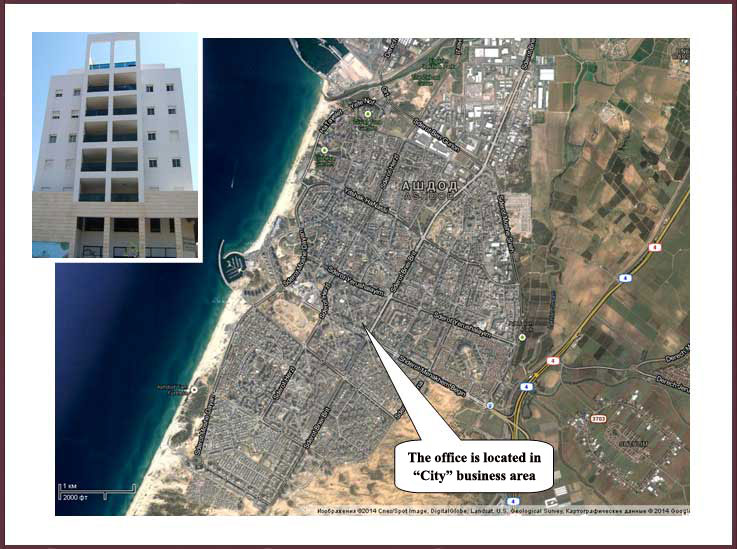 The entrance hall of the ground floor can be turned into a reception office or a waiting room by lesees or owner. The building we offer can be used as headquaters of a b2b ("business to business") or a b2c ("business to clients") company.
The population of Ashdod is 250 thousand people, it is the fifth-lrgest city in Israel, and a regional industrial centre. Ashdod's marine port is the largest port in the country, operating 60% of all incoming cargos. It is evident that a steady demand for office buildings there is determined by the logistic structure of the country.
The existence of the marine port in Ashdod presupposes high business activity of transport, shipping, insurance companies, commodities trading companies, consulting agencies and lawyer's offices. The building is characterized by the unique proximity of transport infrastructure: private aerodromes, international airports, marine ports railway and bus stations, motoways of the Middle East.
Ashdod can boast a highly functioning business life, thanks to its proximity to the capital: it takes only a thirty minutes drive to get there from Tel-Aviv. We will be glad to see you (or your representatives) to show you around the building and to discuss the details of the deal at any convenient day.
Owner's contact details:
+7 (495) 780-36-56
office@adelanta.ru
Taking into account our previous experience of real estate business transactions with our Russian partners as investors, we would like to remind you that local authorities and banks are quite loyal to companies registered at the Republic of Cyprus and offshore zones (for example, the British Virgin Islands).